Thank you all for coming out to the best show of the night!
An Award Show Honoring
the
Heroes of Art History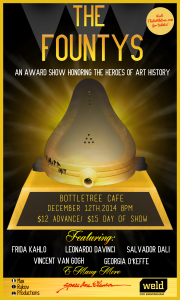 Please join Space One Eleven and Max Rykov Productions for "Art's Biggest Night".
"Mix and mingle" from 8:00-9:00 PM. The show begins at 9:00 PM.
 Purchase tickets in advance for $12, and $15 the day of.

Inspired by Marcel Duchamp's infamous 1917 masterpiece, "Fountain" (the urinal), this award show features some of Birmingham's most beloved artists and art enthusiasts dressed in costume as some of the most influential figures from the history of visual art. We'll have Frida Kahlo, Leonardo da Vinci, Pablo Picasso, Georgia O'Keeffe, Salvador Dali, the Mona Lisa and many more presenting Fountys (small clay replicas of "Fountain") to winners of categories like "Most Confusing to the General Public", "Most Whimsical Representation of the Human Body", "Most Posthumous Success", and plenty more–all leading up to the final award of the evening, "Best Picture". The event will be both entertaining and educational, with presenters describing the lives and work of the historical artists.
Celebrate with us on Friday, December 12, 2014 as we present the winners of the categories at the Bottletree Cafe.
See what Weld for Birmingham had to say for The Fountys in the article, And the winner is…