After School Art Classes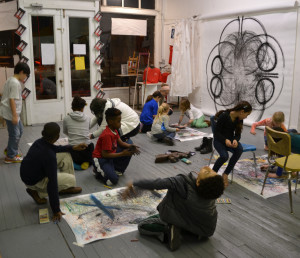 City Center Art: Elementary and middle school students are instilled with basic artistic skill sets and fundamental art studio knowledge. Professional working artists lead activities in studio arts such as painting, sculpture and ceramics. Classes meet once a week.

January 11th – May 11th, 2016 (17 classes)
Grades 2 – 5, Mondays 4:00 – 6:00 pm, Beginner Studio
Grades 6 – 8, Wednesdays 4:00 – 6:00 pm, Intermediate Studio
Cost: $27 per class, scholarships available

Alabama Charcoal is an after school art program for committed high school students. The program is designed to enhance technical drawing skills and allow students to explore concepts of their choice using a wide variety of media. Professional artists, designers, and writers serve as mentors—leading workshops, critiques and portfolio assessments. If a student is interested in pursuing a college degree in visual art or design, artist teachers and mentors will guide the student in portfolio development, college applications, scholarship research, and admission essays; thereby increasing the student's college opportunities.