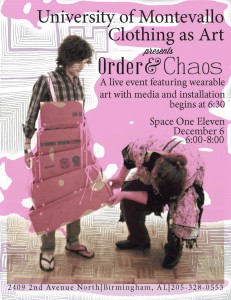 Space One Eleven
presents
Order & Chaos
A live event featuring wearable art made by University of Montevallo Students
Friday, December 6, 2013
6 – 8 pm
2407 Second Avenue North
(205) 328-0553
Please join us for a fun-filled evening featuring a live runway presentation. Expect fashion informed by art, live music and video, and above all expect the unexpected!
University of Montevallo Professor of Art, Karen Graffeo, will direct students from her course titled "Clothing as Art" in which students explore art and its relationship to clothing.
Items range from garments that express the sacred, the playful, as well as clothing that makes social commentary. Garments include beautiful items and sculptural and challenging wearables.
Participating students are: Mary Hannah Barrett, Lessie Dingler, Brantley Hall, Erika Hargrove, Joseph Whitt, Jordan Spinks, Virginia Phillips, Sabrina Pearson, Pansy Nelson, Bethany Moody, Kaylyn Liner, Ian Krusinski, and Halley Jones.
It is an evening guaranteed to intrigue and is open to the public free of charge.